Are you hesitant to go to the dentist because it may cost too much? If you are, you are not alone. Dental costs are the top reason for not scheduling a visit to see your dentist. Below, we discuss some of the costs of dental procedures and how you can save money on dental care.
1 in 4 people avoid smiling due to the bad condition of their teeth

35% of adults have difficulty chewing or biting due to tooth or gum pain

77% of adults say they plan to visit a dentist in the next year but only 37% will actually do it

59% of people say the cost of dental work is too much

22% list a fear of pain as the reason they don't make an appointment 

The rest have varying reasons why they don't make an appointment such as they don't feel the need to see the dentist or they don't have any of their original teeth anymore.
Below are the average prices of common dental procedures:
Dental cleaning: a

routine professional cleaning usually varies between $75-200 and on average will cost around $125. If you have dental insurance, you should expect your insurance plan to cover 100% of the costs of two cleanings a year. This appointment usually takes 30 – 45 minutes. A dentist may recommend a more extensive deep clean if it has been a while since your last visit to the dentist due to plaque build-up. A deep cleaning procedure will be more expensive depending on the amount of time and work that is needed. 

Insurance may only cover a portion of a deep cleaning.

Dental crown

: $1,100 to $1,300. The biggest factor in the cost of a dental crown is what it is made of. Options are porcelain, ceramic, metal, or a combination.

Tooth extraction

: This type of extraction can cost you $150 – $450 per tooth without insurance. The price varies depending on factors such as the condition of the tooth needing to be taken out, the type of anesthesia you need for this procedure, and how long the procedure will take. Dental insurance plans typically cover some but not all of your extraction costs. Impacted wisdom tooth extraction can be more expensive than the estimates above due to other complications and the time required for these extractions.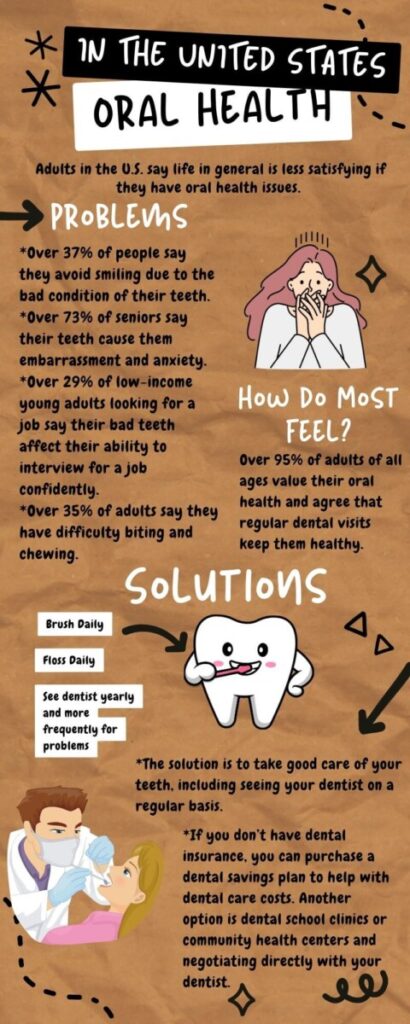 There are numerous ways you can save money on dental care
The easiest way to save money on dental care is to take good care of your teeth on a daily basis by brushing and flossing after meals.

Taking good care of your teeth includes seeing your dentist or hygienist at least once a year! Why? Because your dentist will keep your teeth and gums healthier by getting rid of plaque buildup. In addition, they will catch any potential problems that can be dealt with before they become big problems. Cost to you will be minimal as most insurance packages will cover your yearly cleaning visit.

If you don't have dental insurance through your place of employment or Medicare, then you can purchase dental savings plans for small annual fees which help discount many dental costs. Here are a couple of options:

DentalPlans.com

and

WebMd Dental Savings Plans

If you have any nearby dental school clinics or community health centers, those are options as well. 

You can also try negotiating directly with your dentist. They may also offer a payment plan such as CareCredit, which allows you to set up payment plans for your treatment.
Dental Insurance Notification:
On another note, if you do have dental insurance, your insurance company may have a benefit deadline of December 31. Therefore, you will need to use up your dental plan benefits before then. They will not roll over into the New Year. Check your plan to be sure.