Do you love to try new yummy recipes recommended by friends or family? You may be hosting a party during the Christmas holiday and need a good recipe to try. Or you've been asked to bring something to share to another get-together. Here are some of our favorite holiday recipes our staff chose to share with you.
Vanessa's favorite recipe. It's a great way to use leftover turkey!
Ingredients:
2 cups Turkey
1/2 tbsp Onion, dried
1 Parsley, dried
1 cup Cranberry sauce or relish
1 tbsp Mustard, yellow
1 tbsp Worcestershire sauce
1 Salt and pepper
1 package Hawaiian sweet rolls
6 tbsp Butter
1 Parmesan cheese
6 slices Swiss
Directions:
Preheat oven to 350. Add foil to a  9×13 baking pan and spray with cooking spray. Remove packaged rolls in one piece and cut the entire slab of rolls in half lengthwise. (You will end up with one slab of "tops" and one slab of "bottoms".) Place the bottom slab of rolls on in the pan. Layer with turkey, cranberry sauce, and cheese (warm cranberry sauce for a few seconds in the microwave to make it easier to spread).
Add the top of the slab of rolls. Melt butter and mix in remaining ingredients (except parm. cheese and parsley). Pour evenly over rolls. Cover with foil and let sit for 5-10 minutes.
Bake covered for 20 minutes then uncover and cook for 5 additional minutes. (Optional) Sprinkle with Parmesan cheese and parsley. Slice into individual sliders and serve warm.
Cream Cheese & Apple Rose Tarts
Shannon's favorite
These little tarts are yummy enough to make whenever you're craving some baked apple deliciousness and pleasing enough for fancy parties.
Ingredients
1 to 2 sheets of puff pastry (defrosted)

1 tablespoon lemon juice

3 tablespoons water

1 apple

1/4 cup cream cheese (softened at room temp)

3 tablespoons sugar

Cinnamon
Directions
Core and thinly slice the apple.

In a bowl of water with lemon juice, add apple slices. Microwave for 3 minutes.

Add ice to cool down the bowl.

Dry apple slices by patting them with a paper towel and set aside.

Roll out the puff pastry and cut it into 4 even strips.

Spread cream cheese onto the puff pastry strips.

Sprinkle with sugar. 

Arrange the apple slices vertically on half of each puff pastry and sprinkle cinnamon on top.

Fold the puff pastry lengthwise on top of the apple slices and roll them up.

Place the apple pastry rolls into greased muffin tins.

Bake for 40 minutes at 375 degrees F.
Easy Creamy Corn Casserole!
One of Dr G's favorite side dish! 
Serving size: 8
Preparation time: 10 mins
Cooking time: 45 mins
Ingredients
1 (15 ounce) can whole kernel corn, drained

1 (14.75 ounce) can creamed corn

1 (8.5 ounce) package dry cornbread mix

1 cup sour cream

0.5 cup butter, melted

2 eggs, beaten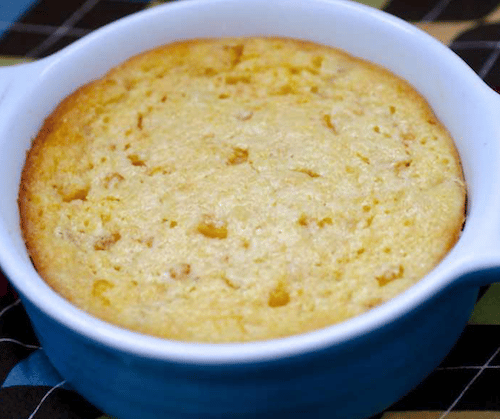 Directions
Preheat the oven to 350 degrees F (175 degrees C). Lightly grease a 9×9-inch baking dish.

Mix whole and creamed corn, cornbread mix, sour cream, melted butter, and eggs together in a medium bowl until well combined. Spoon mixture into the prepared dish.

Bake in the preheated oven until the top is golden brown and a toothpick inserted in the center comes out clean, about 45 minutes.
Easy Masala Chai (Tea) Recipe
Dr. Gulati's favorite. You'll love this traditional East Indian spiced chai drink ! 
Serving size: 2 cups            Cooking time: 20 mins
Ingredients
2 – 2 ¼ cups filtered water ((use larger amount for 2 qt or larger saucepans))
1 3-4 inch cinnamon stick (ceylon or cassia are both fine)
3 whole cloves
4 green cardamom pods (cracked open and deseeded (I throw seeds & pods in))
3-4 black peppercorns
1/2 tsp fennel seeds (optional)
1/2- inch fresh ginger (peeled and thinly sliced)
2-3 black tea bags or sub 2 – 4 tsp loose leaf black tea ((See Note 1) Depending on brand, tea bags/leaves vary in strength)
1 cup whole milk (or 2% reduced fat milk, adjust depending on how milky you prefer)
3-4 tsp turbinado cane sugar or raw cane sugar
Directions
Heat a small/medium (1-2 qt) saucepan over high heat. Add water, cinnamon stick, cloves, cardamom pods, black peppercorns, fennel seeds (if using), and ginger. (See Note 2) Bring to a boil and add the tea bags or leaves.

Reduce the heat to medium/medium-low and simmer gently for 7-10 minutes, depending on how strong you'd like the tea and spices. It will turn a deep burgundy color and reduce slightly.

Add milk and sugar and stir to mix. Raise the heat to high (or allow the milk to come to a boil on its own). Once the milk comes to a boil, lower the heat to medium and allow it to simmer for another 5 minutes. Please note, you can substitute milk for Almond or Oatmilk as well. 

When ready to serve, raise the heat to high and allow it to come to a rolling boil for a minute or so, depending on how 'cooked' you like the milk. (See Note 3) If you'd like, use a ladle to aerate the chai to deepen the flavor and make it creamier.

Pour into cups through a strainer and add more sweetener, if needed. Enjoy! 
Grilled Cheese Holiday Style
Dr. Eberlein's favorite. Super cheesy and warm, this easy-to-make sandwich will become a holiday hit at your house.
Ingredients
2 slices bread (any kind)

Butter, extra virgin olive oil, or mayo

Dijon mustard

Brie cheese, sliced (or other cheese that melts easily)

Deli turkey, ham, or sliced leftover turkey or ham

Canned whole cranberry sauce
Instructions
Heat a large skillet over medium heat. Spread butter, extra virgin olive oil, or mayo on both slices of bread then flip one slice over. Spread a thin layer of Dijon mustard onto the flipped-over side. Add a layer of brie cheese followed by the meat of your choice. Top with cranberry sauce.  Place the mayo/butter/olive oil slice of bread on top, facing out.

Place on griddle and toast until golden brown on bottom. Flip over and toast the other side until golden brown. Slice then serve.
Jillian's favorite
Ingredients
2 c flour

 2 tsp baking powder

 1 tsp baking soda

 1/2 tsp salt

 2 tsp cinnamon

 2 c sugar

 4 eggs

 2 c pumpkin – 1 lb can

 1 c oil

 Chopped nuts if desired
Directions
Sift dry ingredients together in a bowl. Beat eggs in a separate larger bowl. Add pumpkin and oil to eggs. Add dry ingredients to wet and stir until just combined. Fold in nuts. Pour into 9×13 or larger.  It works well to split between a 9×13 and 8×8 – they will be thinner and bake more evenly. Bake at 350 for 25min or until desired doneness.
Cream Cheese Frosting
  3oz softened cream cheese

  3/4 stick oleo or butter

  1 tsp milk

  1 tsp vanilla

  1 3/4c powdered sugar
Beat cream cheese and butter until smooth. Add milk and vanilla. Slowly incorporate powdered sugar until desired consistency and sweetness. Spread over bars after completely cooled.
We hope you enjoy our favorite holiday recipes!
Remember to…
Take good care of your teeth after meals or snacks. If you are someplace where you can't brush and floss after eating, at least rinse your mouth out with water. This will help wash food particles away from your gums and teeth. Remember to brush and floss at least 2 times per day, preferably after meals. And remember all sweet things in moderation. Call us if you have an emergency or need to set up an appointment. Here are even more Holiday Recipes. Enjoy!
Your insurance company may have a benefit deadline of December 31.
Therefore, you may need to use up your dental plan benefits before then as they will not roll over into the New Year.
Still, some plans may end at different times of the year.
Check your plan to be sure.