Gum Disease (periodontal disease)
It hides in your mouth, destroying gum tissue and teeth. It can lead to strokes, heart attacks, and pregnancy complications.  Don't think it's your problem?  At Mid Cities Dental,  conservative estimates report that up to 80 percent of the population unknowingly has gum disease in some form and are in need of dental gum therapy.
What Are the Signs?

Diagnosis
A thorough oral examination, including x-rays, is crucial to diagnosing periodontal disease. In most cases, Dr. Eberlein at Mid Cities Dental recommends an in-office exam and tooth cleaning for all adults twice a year.  At that time, we may use a special instrument called a periodontal probe to measure the depth of the pocket between the tooth and gum tissue.  The pocket depth measurement, clinical examination and x-rays help us determine the precise location, extent and severity of the bone loss.

Treatment
The type of treatment you require depends on how advancement of your particular case.
Treatment may include the following:
More frequent cleanings. It may take bacteria at the base of the pocket up to three months to colonize in numbers able to destroy bone. Frequent cleaning can prevent this buildup.
Scaling and root planing. Scaling is removing the calcium deposits from your teeth. Root planing is smoothing the root surfaces so that the gum tissue can reattach to the tooth. Advanced stages will be referred to a Periodontis (gum specialist).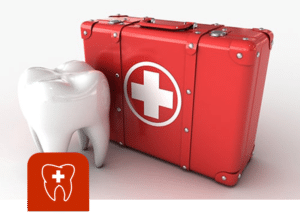 DENTAL EMERGENCY SERVICES
Alleviate the pain and address the problem!
Giving you the smile you lost!
Fixing your smile in advance!
Improving the smile you have!