Services We Offer - Bonded Dental Fillings
At Mid Cities Dental, providing bonded dental fillings is a process in which we will carefully place and sculpt a tooth-colored resin composite to your teeth, allowing quick, economical, and natural looking repairs for problems such as:
The Bonded Dental Fillings Procedure
The procedure for dental bonding varies depending on the type of problem it is intended to resolve, but in general, dental bonding is a quick process, taking place in a single office visit.
First, your tooth will be prepared, removing any decayed tooth structure and old filling material and making any necessary structural adjustments. Then, an etching gel is applied to the teeth to ensure that the bonding material will adhere to the teeth.
Once the surface of the tooth is prepared and cleaned, we will apply a bonding resin to the tooth which adheres the filling material to the tooth. The filling material is made from a specially formulated composite resin. The composite is a putty-like consistency when applied, allowing us to carefully sculpt the material to the shape of the missing tooth structure. The composite is then cured with a special light to harden the material. In many cases, the material will be applied in a series of thin layers and built up to the correct size and shape to minimize distortion of the material.
Finally, we will check your bite and make any minor adjustments to the size and shape of the composite and then smooth and polish the surface so that it feels and looks natural.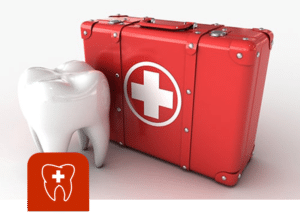 DENTAL EMERGENCY SERVICES
Alleviate the pain and address the problem!
Giving you the smile you lost!
Fixing your smile in advance!
Improving the smile you have!