Do you want to straighten your teeth and have a beautiful smile? What are your options? Do you know the difference between traditional dental braces and clear aligners? 
Clear aligners are transparent orthodontic devices similar to teeth bleaching trays that are used to straighten your teeth. The aligners fit your teeth specifically. Also, they are removable. You will get different aligners at each stage as your teeth move slowly. Therefore, this will continue the movement until your teeth are nice and straight. On average, people wear aligners to straighten their teeth for approximately 14 months. The average time people wear dental braces is 2 years. In some cases, the cost for clear aligners can be less than traditional dental braces. You need to wear aligners for 20-22 hours each day. Therefore, the only time you take out your clear aligners is for meals and to clean them and your teeth.
How Do The Aligners Fit My Teeth?
We use our intraoral scanner to make an accurate digital impression of your teeth. The aligners are 3D printed and created with the doctor's specifications just for you.
Clear aligners work best for people who are:
Older teens and adults

If you have mild to moderate teeth crowding or spacing problems

You previously had braces and your teeth are starting to move again

People who want something clear and removable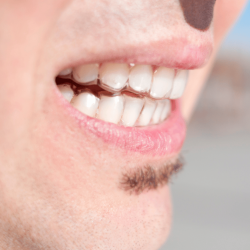 Aligners are not recommended for:
Young children

People with really crooked teeth

If you need your jaw adjusted for bite problems

You can't remember to wear the aligners long enough each day or constantly take them out

Do you lose things easily? This probably isn't for you

Not a regular brusher, flosser, and rinser after meals? These won't work for you.
Traditional Dental Braces
Traditional dental braces are still the main type of braces used to straighten most people's teeth. This type of brace has either metal or clear brackets that are attached to your teeth. Then a wire is attached through all the brackets. We will tighten that up during each visit to move your teeth into the proper position.
Why get traditional braces?
Regular braces are more powerful

If you have very crooked or widely spaced teeth

Your jaw needs to be moved for a better bite

They can't be lost the way aligners can

You can eat and drink with them on

Traditional braces work well for your younger children
Disadvantages of traditional dental braces:
Frequent visits to the dentist or orthodontist

Having braces on creates food limitations for you because certain foods and snacks can damage your braces

Other people can see the braces on your teeth

Every time you have your braces tightened it can cause discomfort for the next day or two

It can take an average of 2 years for your treatment
To Sum It All Up
The doctor will weigh all the pros and cons of traditional dental braces or clear aligners with you. In addition, we will also discuss how much your teeth need to move, taking into consideration your age and level of responsibility. Lastly, we have to factor in your dental insurance coverage. It can play a big role in determining which choice you make. Contact us today and we will help you with all these decisions.